It's a great product for mosquitoes, there is a plague in the evenings in the stable. In horsecloth horses were overheated, so we used FlyOut out of curiosity. And it works sensational!
Annawales, sklep.pokusa.org
PROFESSIONAL SUPPLEMENTS
HorseLinePRO is a professional supplements brand for horses. HorseLine PRO products are based on clinical trials and top quality feed materials proven for years by Pokusa for heath brand- a market leader among producers of natural supplements for pets in Poland.
We are making healthy and safe products, alternative to preparations based on "chemical enhancers". In production we are using ingredients of pharmaceutical and HUMAN GRADE quality. HorseLinePRO includes 14 especially prepared products which are used by the best physiotherapist, blacksmiths, trainers and riders in Poland
International offer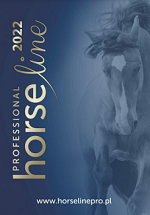 We are looking for e-shops, shops and wholesales in Europe! 
For internetional sales details please contact at: sales@horseline.org
Download international offer [CLICK]
News
Check out the effect after only 5 weeks of application!